The solar industry has been a very interesting sector to specialise in. The government grants in the early days attracted new business offering customers a variety of panels and technology giving customers solar systems varying in cost and quality.
Electrawise Solar Energy Systems focus on "quality", has been the back bone of the companies success.
At Electrawise we believe that quality is not just limited to the panels or inverter, but it's the total package. Our definition of quality includes all products that make up a solar system, including the railing system, Solar circuit breakers, solar DC cable, conduit, installation team and after sales support. Electrawise will not cut corners in quality to win business. We have seen many solar companies fail due to their decision to sell poor quality equipment.
Recently, we received a call from a customer who had given up trying to call the company that installed a their system, unfortunatley upon our visit the inverter had failed and the Chinese manufacturer wes no longer in business (a very common trend). What was also disturbing upon further inspection, the solar railing system, which is holding the10KW solar system to the roof was so thin the mid clamps keeping the panels secured to the roof were ripping out of the channel, see fig 1 below.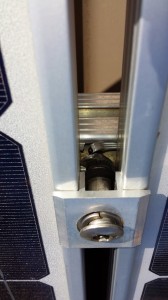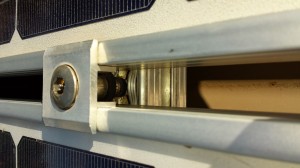 Fig 1
What we have found when purchasing solar rail system, is that cheap rail is really a false mind set because manufacturers use less material. For this particular customer the railing only lasted 4 years which has been something they didn't even consider when purchasing their system. Their good price "Quality Solar System" has turned into an expensive white elephant. What they saved up front has now cost them dearly.
When purchasing a solar system, simply asking "what price can I get a 4KW solar system" is like asking how much for a car. You need to understand what you are purchasing.
Electrawise has many safisfied customers who have taken time to write testomonials thanking us for our support and service. If you are looking for a company with high integrity and service look no further than Electrawise Solar Energy specialists, give us a go you will not be disappointed. Contact us on 0884492196, email support@electrawise.com.au or Contact us here